Thirteen Random Things About Me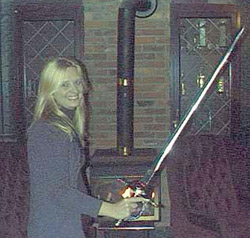 1. The above pic was taken about 7 years ago now. I haven't changed all that much other than the hair was cut really short and is now the same length again.
2. I've always liked this photo as the sword was a gift at a very low point in my life. It became symbolic of my own strengths and hangs today in our living room amongst several other swords of various eras and types. Most photos of myself are horrid and therefore not going to be making an appearance on the blog.
3. We currently reside in the Didier-Darroch Compound (sounds ominous doesn't it?) in Toronto, Ontario, Canada. Our home is over 80 + years of age and we love some of the original features such as our ice box and old fashioned tub! We're both sentimentalists that adore history.
4. I did not complete my post-secondary education, but perhaps I still will. I am always telling Matthew that I would have made a fine physician. ..
5. I was born in Toronto, Canada in 1967. I was baptised a Roman Catholic, raised an Atheist (by two very Liberal parents that I love dearly), became Agnostic with age ... and now consider myself to be Spiritual.
6. My Father's family were from Hungary/Romania, mostly Transylvanian (explains my love of Eastern European vampire folklore.
7. My Mother's family were Ukrainian.
8. I have co-authored a guidebook, which is dedicated to the memory of my Dad, and have two books in various states of completion.
9. I have just gotten into photography as a serious hobby, and am loving it!
10. I collect in no particular order Angels, Wee Folk, Skeletons (no not real ones or the one's in your closet!), Dia de Los Muertos Artwork .. along with the Art of other South American, Indonesian and African cultures, swords, axes, rocks, stones, and any other piece of bric-a-brac I may fancy at a given moment.
11. I have appeared in numerous radio, television and print interviews, consulted on a couple of TV productions, and given presentations on paranormal topics ... but prefer radio to all various forms of media. I would LOVE to have my own radio show.
12. I read a lot ... between Matthew and myself we own close to 1,000 UFO books and about 500 Ghosts and Hauntings books, not to mention books on every other topic under the sun. We hope to one day donate the lot of paranormal books as a special collection to the public library.
13. And finally for good measure ... my favourite colours are blue and silver.
Happy TT, and thank you for stopping by!
Get the Thursday Thirteen code here!

The purpose of the meme is to get to know everyone who participates a little bit better every Thursday. Visiting fellow Thirteeners is encouraged! If you participate, leave the link to your Thirteen in others comments. It's easy, and fun! Be sure to update your Thirteen with links that are left for you, as well! I will link to everyone who participates and leaves a link to their 13 things. Trackbacks, pings, comment links accepted!
View More Thursday Thirteen Participants