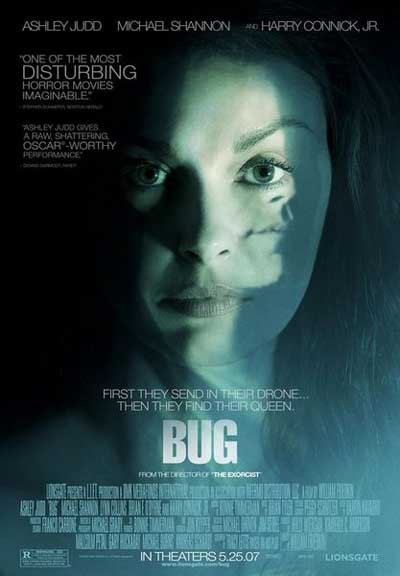 Bug is a hot new film starring the very hot Ashley Judd, and Lionsgate Films is set to release this thriller next week! Check out the promo poster above! I'm getting chills just looking at it! And what about this one below?????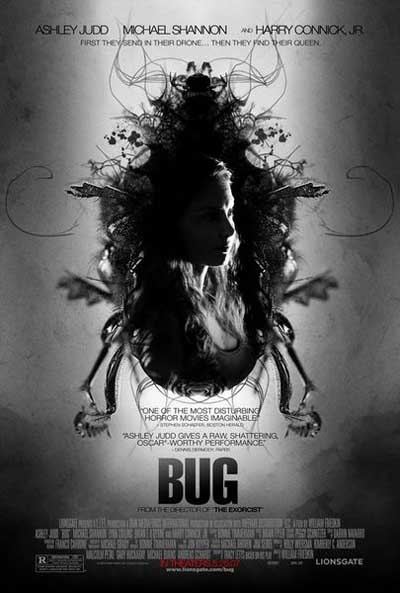 Equally high on the creepy factor in my opinion! And a great way to promote the bug movie, which is set to become a horror film classic! Surf on over to the bug movie trailer on Youtube and check out the taste of what's in store for us horror film buffs on the bug movie release date!
I'm not one to check out too many films in the theatre, and usually wait for the DVD release, but this movie is going to be smokin' hot, and well worth seeing on the big screen! I'll be taking hubby out for this one, and will post a more in-depth review afterwards.
He is not as big a horror movie fanatic as I am, but I'm certain he'll enjoy the very talented, and hot Ashley Judd scenes ... ;)
If you would like some further info on this film, please do check out the bug movie official website, by giving some clicky love to the link provided in this entry.
Like I said this one is going to become a classic! And I'm eagerly anticipating it's release next week!
My thanks to my sponsor!